Recommended Reading: Art of the Essay
Recommended Reading: Art of the Essay
Over the next month, PEN will be highlighting titles that have been longlisted for the 2014 PEN Literary Awards as a helpful guide for your summer reading. Check back for the latest features and insights every Monday and Thursday through June 18, when we'll announce the awards shortlists.
Memorial Day Weekend check list: sunscreen, towel, books. Let us help with that last one! PEN judges Geoff Dyer, Stanley Fish, Ariel Levy, and Cheryl Strayed chose these eight titles for the 2014 PEN/Diamonstein-Spielvogel Award for the Art of the Essay long list. Smart, funny, and just in time for the long weekend.
Makers of Modern Architecture, Volume II (New York Review of Books), Martin Filler
In an interview with The Oculus, Filler discusses his sequel to Makers of Modern Architecture, Volume I: "I see computer and electronic technology as just another tool, another powerful tool, to be sure. But a pencil is a tool, and there were many technological increments in the practice of archicture over thousands of years that were easily adapted and subsumed into the creative process. I have no fear of where these changes are taking us." Hear more of the discussion here.
Buy a copy on Amazon or Indie Bound.
The Kraus Project (Farrar, Straus & Giroux), Jonathan Franzen
Jack Mikanowski's critique of Franzen's work is frank and informative: "Kraus taught Franzen how to be angry, and how to channel that anger at the world. He writes about this as if it was a revelation: 'Anger descended on me so near in time to when I fell in love with Kraus's writing that the two occurrences are practically indistinguishable.' Revisiting Kraus thirty years later gives Franzen an opportunity to vent about all his favorite subjects. He complains that Macs are too sleek, Twitter too shallow, France too pleasurable and book critics too nice." Read more of the review here.
Buy a copy on Amazon or Indie Bound.
Stories We Tell Ourselves (University of Iowa Press), Michelle Herman
"Whether a dream's message is as easy to interpret as turning the knob on an unlocked door [. . .] or so difficult that the unbolting would appear to require the skills of a master locksmith, the opportunity for access it offers to our unconscious minds is unparalleled. Even when access is blocked—even when we cannot unlock the door, when we rattle the doorknob and pick at the lock and pull pin after pin and still the door remains securely closed—when all we can do is marvel at the complexities and strength of the lock itself." Kenny Squires describes Herman's prose and content on The Rumpus.
Buy a copy on Amazon or Indie Bound.
The Blind Masseuse (University of Wisconsin Press), Alden Jones
Alden Jones reflects on her travels: "The tourist can't stop thinking about home, and never opens her mind to the possibility that there are ways to think about the world other than the one she learned growing up. But the traveler moves through the world thoughtfully, considering foreign ideas, trying on new perspectives…That Tourist, she is a charming devil. What's not to love about fancy hotels, a good cigar in Cuba, or a cold Coca-cola when you're really thirsty in Bolivia? There is a lot of seduction on the Tourist's side, whereas the Traveler nudges your sense of responsibility—much less sexy." Her intimate interview with Costa Rica Curious is available here.
Buy a copy on Amazon or Indie Bound.
Forty-One False Starts (Farrar, Straus & Giroux), Janet Malcolm
The Nation explains why Malcolm's collection is so fascinating, "One is the sheer pleasure of her rich descriptive power, her sentences turned like spindles on a lathe. There is the historical interest: reminders of who was once fashionable, should one care. There is the cruelly perfect aim of her insults. But there is, above all, the unequaled glimpse into the mind of Malcolm the critic, which is as close as we're likely to get to the mind of Malcolm, one of our smartest, best writers." An in depth analysis of journalism and Malcolm's writing on The Nation.
Buy a copy on Amazon or Indie Bound.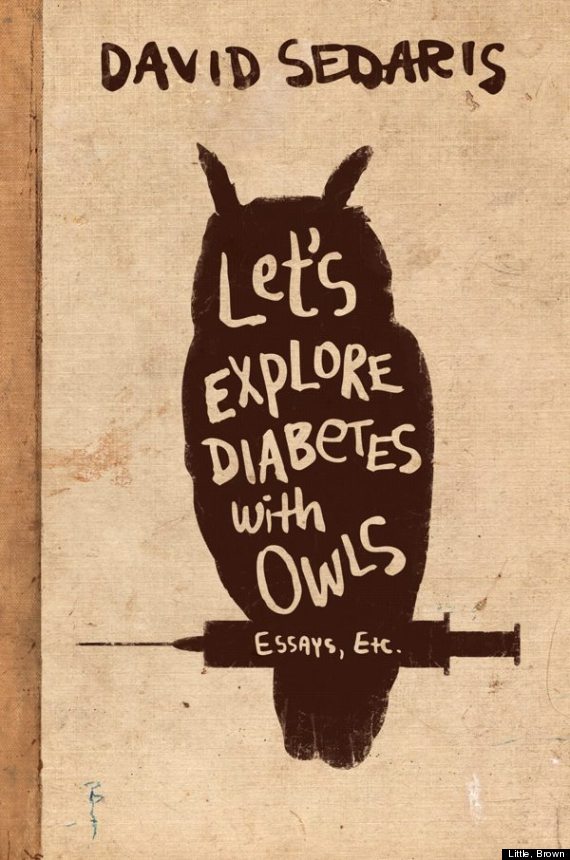 Let's Explore Diabetes With Owls (Little, Brown and Company), David Sedaris
"David Sedaris writes personal stories, funny tales about his life growing up in a Greek family outside of Raleigh, N.C., about working as an elf in Santa's workshop at Christmastime, and about living abroad with his longtime partner, Hugh. The stories have appeared on This American Life and in The New Yorker, and have now filled seven essay collections, including Me Talk Pretty One Day, Naked, Dress Your Family in Corduroy and Denim." Sedaris discusses writing in his diary every day since 1977 and more here on Fresh Air from NPR.
Buy a copy on Amazon or Indie Bound.
The Faraway Nearby (Viking Adult), Rebecca Solnit

"The very depth of emotion, the connecting to the core of one's being, the calling into play one's strongest feelings and abilities, can be rich, even on deathbeds, in wars and emergencies, while what is often assumed to be the circumstances of happiness sometimes is only insulation from the depths, or so the plagues of ennui and angst among the comfortable suggests." Solnit discusses her investigation of the self with Harper's Magazine.
Buy a copy on Amazon or Indie Bound.
Critical Mass (Doubleday), James Wolcott
Wolcott's witty collection is reviewed by the Daily Journal: "Wolcott, the veteran culture writer with a vast new collection called Critical Mass, has the rare gift for style that doesn't detract from substance. He writes with a muscular sense of humor that favors springy verbs over piled-on adjectives (ask any critic how hard that is). He covers the boardwalk, from pop music to literary fiction. And he was lucky enough to ply his trade in New York during a period when the city was shaking with cultural foment." Read more of the review here.
Buy a copy on Amazon or Indie Bound.