Recommended Reading: Picture Book Writing
Recommended Reading: Picture Book Writing
Over the next month, PEN will be highlighting titles that have been longlisted for the 2014 PEN Literary Awards as a helpful guide for your summer reading. Check back for the latest features and insights every Monday and Thursday through June 18, when we'll announce the awards shortlist.
School's out! And the kids are sure to love spending their summers reading these stories. These picture books are entertaining and educational for every age. Our Judges Mac Barnett, Ted Lewin, and Elizabeth Winthrop have selected the following eight titles for the PEN/Steven Kroll Award for Picture Book Writing longlist.
Train (Orchard Books), Elisha Cooper
"When the watercolor and pencil artwork used in the illustrations is paired with the text, Elisha Cooper's book, Train elevates to masterful.The three pages which frame the narrative at the beginning with the two title pages and the page opposite the publication information at the back are patterned with Elisha Cooper's people. All kinds of people are pictured; young to old, from all walks of life, in a train station." Read more of the Librarian's Quest review here.
Buy a copy on Amazon or Indie Bound.
Tea Party Rules (Viking), Ame Dyckman
In Dyckman's book, we see Cub crash a tea party for a treat. "Readers will easily see that Cub is not happy being clean and neat and polished in order to enjoy those cookies. With perfect pacing, the tension builds along with the rules. Young listeners will want to shout out 'He's a BEAR!' The lesson—playing together is much more fun when both parties agree on the rules—goes down easy in this tale of newfound friendship." Find the full Kirkus Review here.
Buy a copy on Amazon or Indie Bound.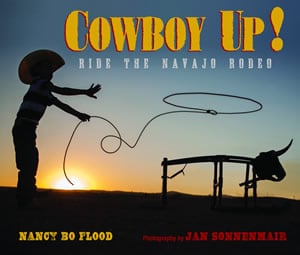 Cowboy Up! Ride the Navajo Rodeo (Wordsong), Nancy Bo Flood
"Setting her book during the course of a single rodeo day, author Nancy Bo Flood plunges readers into what might be an unknown world. We see children near bucked from woolly riders (sheep), adults flung from broncos, women who sweep the barrel racer events, steer wrestlers, and, best of all, bareback bull riders. Saturating her text with facts, background information, and tons of photographs, this is one title that will prove tempting to kids already familiar with the rodeo world and those approaching it for the very first time." Read more at School Library Journal.
Buy a copy on Amazon or Indie Bound.
Look Up! Bird-Watching In Your Own Backyard (Candlewick Press), Annette LeBlanc Cate
"Students will not help but notice how Cate uses speech bubbles to establish voice and provide information, em dashes to explain or elaborate, charts to convey information in an engaging way, and color–or the absence of it– to highlight details, as she does when explaining the characteristic silhouettes of various bird types. One can't not learn craft from this book even as they are engaging in all of its wisdom and wonder." The full revie is available from Nerdy Book Club.
Buy a copy on Amazon or Indie Bound.
The King of Little Things (Peachtree Publishers), Bil Lepp
Lepp's book steps inside a world of little things that make a big difference. "Lepp has woven a tale so engaging that children may even read the story so quickly to discover the ending that they miss Wenzel's wonderful illustrations. Not to worry. This is a book well worth going back over again and again." Read a review of the delightful children's book at Good Read With Ronna.
Buy a copy on Amazon or Indie Bound.

Crabtree (McSweeney's McMullens), Jon & Tucker Nichols
"Alfred Crabtree has lost his false teeth. But don't worry, he'll find them if he can just get organized! Join Alfred on a romp through his far too many belongings and you'll end up learning more about him than he knows about himself." See a video of the book from McSweeny's McMullens here.
Buy a copy on Amazon or Indie Bound.
Bugs In My Hair! (The Blue Sky Press), David Shannon
Author and Illustrator David Shannon turns the taboo of head lice on it's head. "I doubt there's a parent or child who won't relate to this book. Shannon has it spot on when it comes to the frustration and hysteria associated with head lice, and kids will love the vibrant, wild and funny illustrations. Just try reading this book without once scratching your head." Read more about the book at Kids' Book Review.
Buy a copy on Amazon or Indie Bound.
Who Says Women Can't Be Doctors? (Henry Holt and Company), Tanya Lee Stone
This nonfiction children's book dives into women's rights. "Tanya Lee Stone has pared away the details of Elizabeth Blackwell's life to create a succinct story with a happy ending. An author's note and a list of sources round out the book and tell readers of Blackwell's long life; she lived to the age of eighty-nine. With her usual élan, Marjory Priceman has added smart characterization, a strong sense of setting, and great humor to every page." Read the full review at Anita Silvey's Childrens Book-A-Day Almanac.
Buy a copy on Amazon or Indie Bound.