Recommended Reading: Literary Sports Writing
Recommended Reading: Literary Sports Writing
Over the next month, PEN will be highlighting titles that have been longlisted for the 2014 PEN Literary Awards as a helpful guide for your summer reading. Check back for the latest features and insights every Monday and Thursday through June 18, when we'll announce the awards shortlist.
These works of literary sports writing discuss much more than games. Covering friendships and foes, trials and tribulations, these great works focus on beating the odds and conquering all forms of obstacles. Award judges Joel Drucker, Chad Harbach, and Jackie MacMullan have chosen the following nine titles for the PEN/ESPN Award for Literary Sports Writing, honoring great nonfiction sports writing.
Mickey and Willie (Crown Archetype), Allen Barra
In his newest book, Barra draws astounding paralells between longtime friends and New York baseball legends Mickey Mantle and Willie Mays. "'Mickey and Willie' is packed with good stories from inside and outside baseball. It is a colorful, absorbing account of men who became idolized without being known, who were 'a bit bewildered that the world had passed them by while leaving them as famous as they had been in their playing days.'" See the complete review at The Boston Globe.
Buy a copy on Amazon or Indie Bound.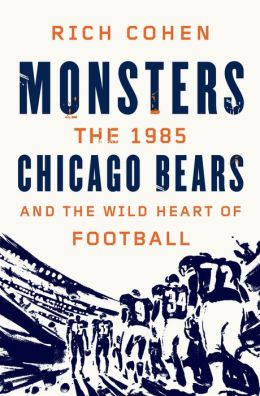 Monsters (Farrar, Straus & Giroux), Rich Cohen
Cohen's book tells the remarkable story of the Chicago Bears: their team, town, and triumph. "[Cohen] is at his best in the interviews with 32 retired players and executives who offer their impressions of the Bears' famed '46' defense, 'the most devastating force in football,' and its characters, including the Hit Man, Mongo, the Black & Blues Brothers and, most famously, the Fridge. Ideal for Chicagoans, both casual and die-hard sports fans, and anyone who wonders, 'What happens when you have a dream and that dream comes true?'" Read more at Kirkus Reviews.
Buy a copy on Amazon or Indie Bound.
Collision Low Crossers (Little, Brown and Company), Nicholas Dawidoff
Dawidoff provides an impressive glimpse into his year in and out of locker rooms, hotels, and games with The New York Jets, studying the football mentality. He notes, "Football is a game of process, a relentless day to day immersion and in all those hours there were so many signal moments. I'll never forget talking with the young cornerback Julian Posey about our fathers. I'll never forget Antonio Cromartie losing it during a meeting, and then the way he and the coach he wanted to kill made up." His interview is available on TNB.
Buy a copy on Amazon or Indie Bound.
The Sports Gene (Current), David Epstein
A senior writer for Sports Illustrated, Epstein brings us an extraordinary study on extraordinary athletes. "The narrative follows Mr. Epstein's search for the roots of elite sport performance as he encounters characters and stories so engrossing that readers may not realize they're receiving an advanced course in genetics, physiology and sports medicine." Read the review in The New York Times.

Buy a copy on Amazon or Indie Bound.
League of Denial (Crown Archetype), Mark Fainaru-Wada & Steve Fainaru
Fainaru and Fainaru-Wada demand transparency with issues concerning football and mental health in their book. "Throughout the pages of 'League of Denial,' a pattern emerges: NFL-affiliated doctors privately counseling players with multiple concussions and unresolved medical symptoms to retire, the better to reduce their risk of additional and permanent brain damage. Publicly, however, those same doctors repeatedly deny a link between football and long-term cognitive harm." Read more at Sports on Earth.
Buy a copy on Amazon or Indie Bound.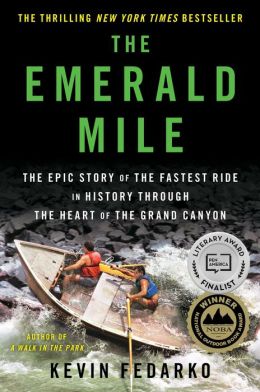 The Emerald Mile (Scribner), Kevin Fedarko
"In the summer of 1983, the flooded Colorado River threatened to overwhelm Glen Canyon Dam. The dam's engineers had no choice but to open the floodgates. Down river, three boatmen had a crazy plan: use the raging river to slingshot a wooden boat called the Emerald Mile through the Grand Canyon faster than any vessel ever." Hear more about the epic account on RadioWest.
Buy a copy on Amazon or Indie Bound.
Francona (Houghton Mifflin Harcourt), Terry Francona & Dan Shaughnessy
"Francona – the son of Major Leaguer Tito Francona and himself a 10-year veteran – came along when the Boston Red Sox were poised to break their 86-year World Championship drought in 2004 and thus became an instant folk hero. But as another saying goes, the hardest thing to do in sports is to repeat." Francona himself partners with sportwriter Dan Shaughnessy to tell his enthralling story of his years as the Red Sox's manager. Find more at WEEI.
Buy a copy on Amazon or Indie Bound.

Their Life's Work (Simon & Schuster), Gary M. Pomerantz
Pomerantz provides a gripping portrait of the 1970's Pittsburgh Steelers. "Each member of that team as highlighted by Pomerantz has a memorable role in a dramatic, inspiring and wondrous tale of brotherhood, camaraderie and spirit. It's the text book for Steelers 101. It's the Bible for Steelers Spirituality 201. It's the reading material necessary to pass a citizenship test for entry into Steeler Nation, and all residents should be issued it upon their arrival." Read more on SB Nation.
Buy a copy on Amazon or Indie Bound.
Game Over (The New Press), Dave Zirin
This provacative book explores the connection between politics and sports. "Dave Zirin is a powerful voice for progressive change on the landscape of sports and beyond. He believes that sports constitutes 'the closest thing to a common language we have as human beings,' which makes the field upon which he has chosen to make his stand and launch his carefully-supported and often persuasive arguments a logical choice." NPR has more on Zirin's newest book here.
Buy a copy on Amazon or Indie Bound.