Freedom to Read Advocacy Workshop – San Diego
Freedom to Read Advocacy Workshop – San Diego
PEN America, UC San Diego CREATE (Center for Research on Educational Equity, Assessment, and Teaching Excellence), and #USvsHate are excited to announce our first Freedom to Read Advocacy Workshop for students and educators this September leading up to Banned Books Week 2023! In this convening, students and educators from the San Diego area will be welcome to engage with each other and staff from PEN America's Free Expression and Education team in discussion on the nationwide book-banning crisis and the intolerance, exclusion, and censorship undergirding it.
Join us in-person on the UC San Diego campus on September 28 from 4:30 pm – 6:45 pm PT to learn more about PEN America's latest report "Banned in the USA: State Laws Supercharge Book Suppression in Schools" and the expanded censorship over the past year of literature themed on race, history, sexual orientation and gender. Following a presentation on our report, breakout workshops will then cover effective advocacy strategies for students and educators to consider. In closing, attendees will learn about additional opportunities and ways to get involved in PEN America's Freedom to Read and Next Gen PEN America programming.
This program is FREE and available to all high school students, university students, and educators. Middle school students may attend with a parent or guardian present. Breakout workshops will be split between students and educators. Light food and refreshments will be provided.
Registration is required and will stay open through the day of the event, Thursday, September 28, 2023. Please register as soon as possible if you plan on attending.
Public transportation is available and for those driving, parking information will be shared upon registering.
If you have any questions, email us at [email protected] or CREATE/#USvsHate Director Mica Pollock, at [email protected].
PROGRAM ITINERARY:
| | | |
| --- | --- | --- |
| Activity: | Starts: | Ends: |
| Welcome Mixer | 4:30 PM | 5:00 PM |
| Presentation: "Banned in the USA: State Laws Supercharge Book Suppression in Schools" | 5:00 PM | 5:45 PM |
| Breakout Workshops for Students and Educators | 5:45 PM | 6:30 PM |
| Regroup and Program Closing | 6:30 PM | 6:45 PM |
*Subject to Change*
OUR PARTNERS:
UC San Diego CREATE(Center for Research on Educational Equity, Assessment & Teaching Excellence) is an equity-focused, community-facing research-practice partnership center committed to supporting equitable educational opportunities for San Diego's underserved communities, K12 and beyond (K20). CREATE houses an innovative team of researchers, youth mentors, and professional development experts working with the region's K12 teachers. Every day we ask ourselves this question: what could we do with others to help get all groups of the region's young people ready for college and fulfilling careers, contributing their ideas and energy to the future of San Diego and beyond? We focus on supporting K-12 students, teachers, families, schools, districts, and community organizations in the San Diego and Imperial Valley regions, while also supporting community college students and helping UC San Diego colleagues to design programming to meet key local education needs. We also research and evaluate K12 and K20 education efforts so they #CREATEequity!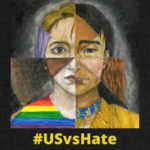 #USvsHate("us versus hate") is about embracing inclusion and justice for all in our diverse schools and society. Our messages insist publicly that all people are equally valuable. In #USvsHate, students are invited to create public anti-hate messages in any media for their school communities. Our national challenge then amplifies student voices for a nationwide audience. What's communicated in schools really matters. We think students creating school messaging is a great place to start building schools and a society where all are supported and valued.