Recommended Reading: Poetry in Translation
Recommended Reading: Poetry in Translation
Over the next month, PEN will be highlighting titles that have been longlisted for the 2014 PEN Literary Awards as a helpful guide for your summer reading. Check back for the latest features and insights every Monday and Thursday through June 18, when we'll announce the awards shortlists.
From Japanese, Greek, Russian, German, and more, these translators have brought great works of international literature into English for all lovers of poetry. Our award judge Kimiko Hahn has chosen the following ten titles for the PEN Award for Poetry in Translation longlist for a book-length translation of poetry into English.
Black Stars: Poems by Ngo Tu Lap (Milkweed Editions), Martha Collins & Ngo Tu Lap
Lap, with the mighty help of Collins, translates the darkness of the Vietnam war across generations. "Through this book, Lap takes flight from his youth with a narrative flow that bears the imprint of our greatest ancient poets. We can only rejoice that Lap's lifelong horrors are transformed into dream-like images, becoming elegant amendments to a disgraceful time in history. All that is ugly is redeemed by his descriptive writing, poetic restraint, and ennobling experience." Read excerpts and reviews of the poems on Washington Indepedent Review of Books.
Buy a copy on Amazon or Indie Bound.
Even Now: Poems by Hugo Claus (Archipelago), David Colmer
Belgian writer Hugo Claus' playful and tonal sensitivities are captured by Australian translator David Colmer. "Even now, gagged and bound on the gallows today, / she, who will awaken soon with swollen lips, eyes closed, / was something I knew, and then lost sight of, and how, / but how did I lose her, how does a dog bark when it's drunk?" A full review of this musical book of poems and its translation is available on Quarterly Coversation.
Buy a copy on Amazon or Indie Bound.
Diaries of Exile by Yannis Ritsos (Archipelago), Karen Emmerich & Edmund Keeley
Emmerich and Keely take on the task of translating the work of Greek poet Yannis Ritsos (1909-1990) "This impressive collection brings to an international audience the spirit of an enduring poet surviving under the harshest conditions when he seldom had a pencil or a pen and could only write a few lines a day without being punished. Look at the power and simplicity of this sample: 'It's getting dark. / Again we are easily fooled.'" Read the review and selected excerpts in World Literature Today.
Buy a copy on Amazon or Indie Bound.
fungus skull eye wing by Alfonso D'Aquino (Copper Canyon Press), Forrest Gander
Latin American translator Forrest Gander presents Mexico-born Alfonso D'Aquino's poetry to the English-speaking world. "D'Aquino is one of those thinkers so immersed in the particularities of place and life that the vision and vocabulary opens up to other traditions not in a superficial, buffet-style borrowing, but in a mastery of similarities that joins times and cultures." See a complete review of this collection at the University of Rochester's Three Percent Review here.
Buy a copy on Amazon or Indie Bound.
Impromptus by Gottfried Benn (Farrar, Straus & Giroux), Michael Hofmann
On the left, German dances on the page, on the right, English flows. "Literary expressionism has almost as many meanings as it has practitioners, but in a general way (and certainly in Benn) it can be seen as a simultaneous boosting of both style and content. Expressionism is gaudy, neoprimitive, volatile, provocative, antirational." Read Hofmann's introduction to Impromptus where he recounts Benn's life work, available in Poetry Daily.
Buy a copy on Amazon or Indie Bound.
Collected Haiku of Yosa Buson by Yosa Buson (Copper Canyon Press), Takako Lento & W.S. Merwin
The haiku poems of Yosa Buson (1716 –1784), considered on par with Matsu Basho's, are translated into English by poets themselves. "One day I set out for my old village to visit an old friend. As I crossed Yodo River and came to the Bank of Kema, I met a girl on her way back to her hometown. We traveled several miles, sometimes I went ahead of her, and sometimes she walked ahead of me." Read more of the haiku's from The Dish.
Buy a copy on Amazon or Indie Bound.
The Colonies by Tomasz Różycki (Zephyr Press), Mira Rosenthal
Rosenthal translates from the Polish language into English. "It might sound strange to say that there is a similar element of discovery, of the poem doing something unexpected, that alerts me to a good translation. After all, in some sense the poem is already written. But I know that a translation is working when there is a feeling of it writing itself, which is in large part about the sound — not sound that imitates the original but creates its own effects in the new language." Read an interview with both Rosenthal and Rozycki with The National Post.
Buy a copy on Amazon or Indie Bound.
I Can Almost See the Clouds of Dust by Yu Xiang (Zephyr Press), Fiona Sze-Lorrain
Sze-Lorrain writes in her introduction, "Surely an honest language must reflect that anxiety, that mix of incoherence and intelligibility. Instead of rejecting technically bizarre or overly colloquial syntax, Yu makes a conscious attempt to work from everyday language that accepts errors, friction and edges. She pushes phrases forward. She lets words coalesce. She makes them tumble." Read an interview with translator Sze-Lorrain here at TriQuarterly.
Buy a copy on Amazon or Indie Bound.
Paul Klee's Boat by Anzhelina Polonskaya (Zephyr Press), Andrew Wachtel
The language of the Russian is rendered in English with the intensity of the original. "Loss, loneliness, and miscommunication are major themes in Polonskaya's work. While most of the poems in the new collection explore these ideas from a personal perspective, the last ten poems commemorate the horrific sinking of the Soviet submarine Kursk in 2000—a tragic loss on an entirely different scale." Read more about the author and translation from Gwarlingo.
Buy a copy on Amazon or Indie Bound.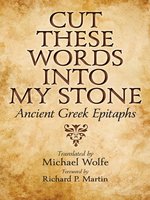 Cut These Words Into My Stone: Ancient Greek Epitaphs (Johns Hopkins University Press), Michael Wolfe
"In a clear and informative foreword, Richard P. Martin defines an epitaph in its role both as a grave-marker and as a literary form. He finds an affinity between epic and epitaph, "a shared artistic concern: to craft the most memorable evocation of special persons, whether heroes or kin, and to keep their memory alive for ages." This very book stands as a measure of the success of that craft." Read the review and close readings from Boston's The Art Fuse.
Buy a copy on Amazon or Indie Bound.