Recommended Reading: Art of Biography
Recommended Reading: Art of Biography
Over the next month, PEN will be highlighting titles that have been longlisted for the 2014 PEN Literary Awards as a helpful guide for your summer reading. Check back for the latest features and insights every Monday and Thursday through June 18, when we'll announce the awards shortlists.
In these captivating biographies, authors delve deep into the lives of curious figures, from actresses to activists. Our judges James Atlas, Lisa Cohen, and Wendy Gimbel have chosen these eight titles for the PEN/Jacqueline Bograd Weld Award for a distinguished biography published in 2013. Get lost in the stories of these astonishing personalities, with details and insights sure to leave a lasting impression. Read. Revere. Repeat!
Lawrence in Arabia (Doubleday), Scott Anderson
Anderson investigates the iconic image of T.E. Lawrence and finds an incredible character beneath, "He didn't [fit in]. He was openly contemptuous of the whole regimentation and the climate of puffery. … I think he felt he knew the region better than almost anybody else and just saw how wrong-headed the approaches were. The military hierarchy also didn't like him. … His uniform was always a mess; he would forget to salute; he would forget his belt. It was a pretty antagonistic relationship in both directions." Hear more of the interview with Fresh Air.
Buy a copy on Amazon or Indie Bound.
Wilson (Putnam), A. Scott Berg
Berg's fourth biography sweeps into the life of the 28th President of the United States, "Telling the story of his life, his visionary ideas and his legacy has occupied four generations of American historians. But until now, no one has gotten him quite right. Not until A. Scott Berg with his landmark biography, 'Wilson.' In a meticulously researched and generously written new biography, we have an appraisal of the 28th president that is neither diminishing nor hagiographic. Rather, Berg, one of the pre-eminent biographers of our time, has placed Wilson in his correct place in our nation's history." Read Huffington Post's full review.
Buy a copy on Amazon or Indie Bound.
Holding On Upside Down: The Life and Work of Marianne Moore (Farrar, Straus & Giroux), Linda Leavell
Leavell tries to capture the personality of modernist poet and writer Marianne Moore: "the book aims to portray Moore on her own terms—a goal that would seem fundamental in any biography but which is not so clear-cut with Moore. Leavell points out in her introduction that Moore was as cagey about self-revelation in her letters as she was in her poems and published prose." Leavell allows her readers to find the identity of the person behind Moore's cryptic writing themselves. Read more in The Hudson Review.
Buy a copy on Amazon or Indie Bound.
Dreadful: The Short Life and Gay Times of John Horne Burns (Other Press), David Margolick
Margolick captures the complicated and fascinating image of John Horne Burns, author of The Gallery (1947), who wrote about homosexuality in times of war. Margolick "depicts with sympathy but not sentimentality the destruction of soul, and ultimately of life itself, caused by the repression of homosexuality during the first half of the last century." The Bay Area Reporter has a comprehensive review of Margolick's latest book here.
Buy a copy on Amazon or Indie Bound.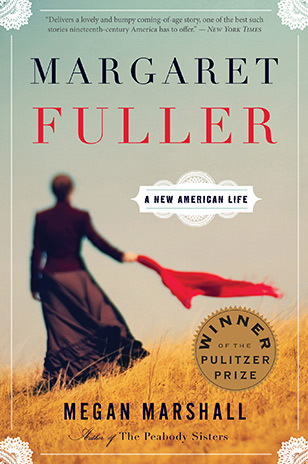 Margaret Fuller (Houghton Mifflin Harcourt), Megan Marshall
Marshall writes a comprehensive biography on the legendary figure. "Ultimately Marshall chose to write Fuller's story 'from the inside, using the most direct evidence—her words, and those of her family and friends.' Just as Fuller's critical publications were 'hybrids' that included 'personal observation' and 'confessional poetry,' Marshall chose to use fictional techniques to enhance the 'lights and deepen the shadows' of Fuller's life." More on both Margaret Fuller and Megan Marshall from New Republic.
Buy a copy on Amazon or Indie Bound.
Roth Unbound (Farrar, Straus & Giroux), Claudia Roth Pierpont
Writer and journalist Pierpont "gently unmasks Philip Roth, telling us what was actually happening in the life he was living alongside the books he was writing and how he was expanding his intellectual and moral horizons. He taught literature in universities and traveled to communist Czechoslovakia, where he befriended writers Ivan Klima, Milan Kundera and Vaclav Havel, and spent time in Israel. His circle of friends in the literary world, in the arts and in music kept expanding." More on this candid and fascinating biography at Moment Mag.
Buy a copy on Amazon or Indie Bound.
American Mirror: The Life and Art of Norman Rockwell (Farrar, Straus & Giroux), Deborah Solomon
Art Critic Deborah Solomon's portrayl of Rockwell is fresh and insightful. She tells her readers, "Have you noticed that a lot of biographies open with the writer proclaiming a lifelong attachment to their subject? I didn't have that with Rockwell. I'm not going to pretend that I pored over his covers at my kitchen table when I was five years old. I majored in art history at Cornell and was taught that Jackson Pollock was the savior of American painting. Why? Because he shifted—it was always said—the capital of the art world from Paris to New York." Read more of her interview here.
Buy a copy on Amazon or Indie Bound.
A Life of Barbara Stanwyck (Simon & Schuster), Victoria Wilson
Fifteen years in the making, Wilson's highly anticipated biography captures the first 33 years of Stanwyck's life with her extensive and remarkable research. "A Life of Barbara Stanwyck will unquestionably remain the biography of record; beyond Wilson's excavation of so much that would otherwise have been lost, her book has a deep sensitivity to the seriousness and subtlety of Stanwyck's craft. This is the biography not of a Hollywood phenomenon but of a serious artist." Read the full review on Bookforum.
Buy a copy on Amazon or Indie Bound.