Malaysia: Sedition Charges Run Amok
Malaysia: Sedition Charges Run Amok
Political cartoonist Zulkiflee Anwar was charged with a record nine counts of sedition last week for a series of tweets he posted in February criticizing the government.
Zunar, as he is known to fans, took to Twitter after the Federal Court upheld a sodomy conviction against opposition leader Anwar Ibrahim on February 10. Referring to members of the judiciary as "lackeys" to the government, he posted a cartoon depicting Prime Minister Najib Razak as the judge handing down the sentence. Zunar was arrested in his home later that night and detained for several days. On April 3, he was slapped with one count of sedition for each tweet he posted.
The charges against Zunar demonstrate a troubling escalation of Malasysia's crackdown on free expression and public dissent over the past months, feeding on a heavy-handed application of the colonial-era Sedition Act. In January, human rights lawyer Eric Paulsen was similarly arrested and detained for an allegedly seditious tweet. The draconian law was invoked again just over a week ago when police raided the offices of the independent news website The Malaysian Insider and arrested five journalists in under 48 hours.
This is not the first time Zunar has been investigated for his cartoons that expose the authoritarian and corrupt practices of the ruling government. The defiant cartoonist has for years been vocal about the political motivations behind Anwar Ibrahim's repeated sodomy trials, which he illustrated in his 2010 collection Cartoon-O-Phobia. Hours before the book's launch, police held Zunar for two days and confiscated sixty-six copies of his books. Many of his other published collections are banned in Malaysia and his office has been raided several times by government officials, who routinely seize copies of his books and take extreme measures to prevent them from being sold to the public.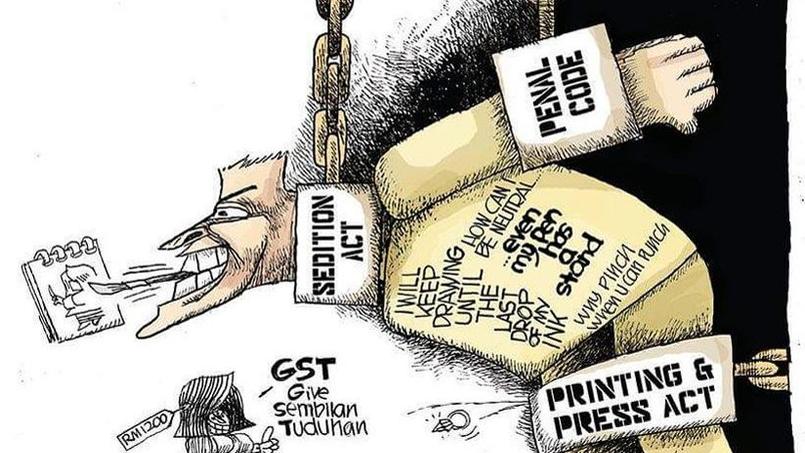 Zunar pleaded not guilty to all nine charges last Friday, and his next hearing is set for May 20, 2015. If found guilty, he could serve up to forty-three years in prison. Undaunted by the persistent efforts to suppress his contentious views, he tweeted a cartoon of himself bound in cuffs and chains but still at work with a brush in his mouth. In a statement, Zunar vowed to continue the "fight through cartoons" and to keep drawing "until the last drop" of his ink, a sign that Malaysia's heavy-handed tactics against its artists, journalists, and activists are ultimately ineffective at stifling the mounting criticisms against the Najib administration.